While Workplace Flexibility Improved for Caregivers During the Pandemic, Some Challenges Increased, Including Feeling Isolated; 24% of Caregivers Worry Isolation May Be Long-Term
With the Average Caregiver Providing 34 Hours of Assistance Each Week, 7 out of 10 Are So Busy They Put Off Addressing their Own Needs
Planning and Securing Resources Can Make a Profound Positive Difference, Yet Only 54% of Caregivers Seek Out Available Workplace Benefits. Fidelity Is Here to Help
BOSTON--(BUSINESS WIRE)-- While taking on care responsibilities for a loved one with a disability or special needs can be a truly rewarding experience, it can also involve tremendous personal sacrifice. As part of an ongoing commitment to secure financial well-being for everyone, Fidelity Investments® today released its latest American Caregivers study, revealing 7 out of 10 caregivers are so focused on caregiving duties they put off addressing their own needs. And while the pandemic made some challenges, such as work flexibility, a bit easier for some, it also intensified other obstacles: many caregivers anticipate long-term challenges securing work income and resources, getting health care for loved ones, and even working as a family to provide care. Two-thirds felt more isolated due to the pandemic—and 24% have concerns about long-term isolation.

The time commitment for caregivers of a loved one with special needs or a disability is long and enduring, particularly among women, according to Fidelity's latest American Caregivers study. (Graphic: Business Wire)
Fidelity's study, which examines the emotional and financial concerns of caregivers providing support for a loved one with a disability or special needs, suggests part of the reason more attention should be paid to caregiver needs is becausethe personal commitment is so great. Forty-four percent of caregivers took on responsibilities by default rather than volunteering or through family conversations. On the financial front, a majority rely primarily on a combination of their own or a family members' work income (68%) and government benefits (52%) to pay for care.
"Caring for a loved one with a disability often comes with responsibilities above and beyond the normal demands of life, which is why it's so vitally important to build a strong network of support," said Stacey Watson, senior vice president of Life Event Planning at Fidelity Investments. "Sometimes people, particularly women, feel guilty asking for help, but it's important to understand that asking for assistance from others is a sign of strength, not weakness. It's also a two-way street, so if someone you know is in this situation and asks, please move quickly and do something."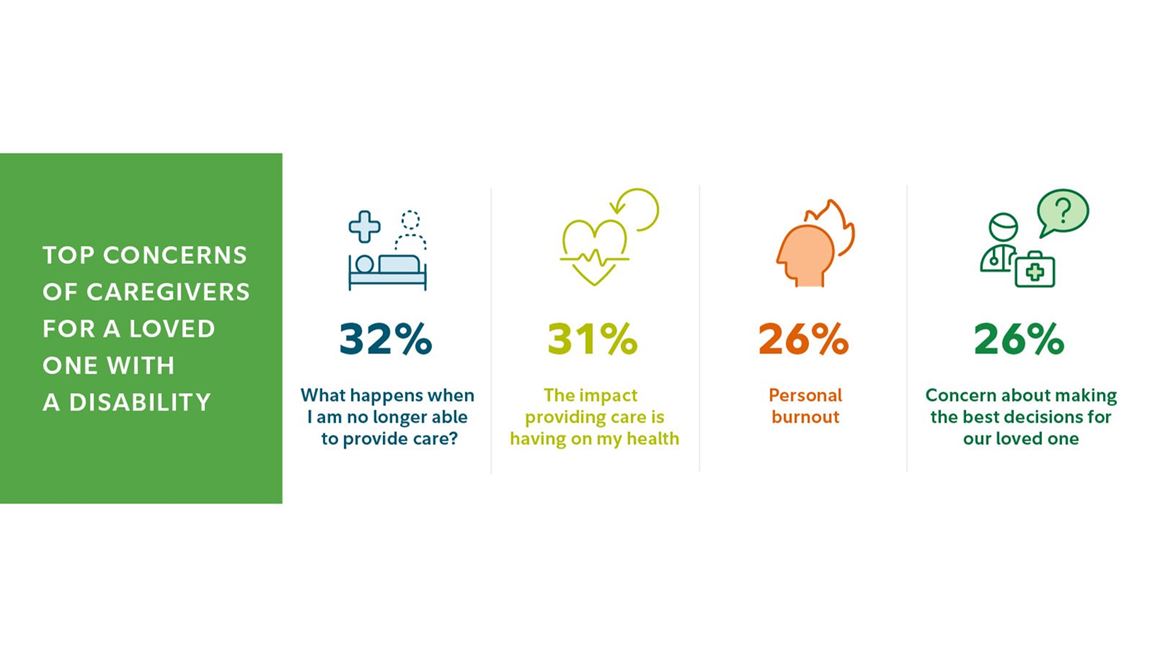 The study also suggestsrelying upon and building up a network of support can be critically important: 57% say the support of friends and family helped the most during the initial transition to serving as a caregiver. Fortunately, the bonds forming a care network are quite varied, with 4 in 10 respondents who provide care support identifying as close family friends, not family members. This may be in part because care responsibilities run the gamut, from day-to-day care duties to making financial decisions. This diversity can make the task of maintaining a community a bit easier—and may possibly help address any growing feeling of isolation.
On the subject of day-to-day care, although the rewards are plentiful, with caregivers finding inspiration in building a close relationship with their loved one and discovering strength they never knew they had, the time commitment is long and enduring, particularly among women.
Planning Can Help—But the Best Time to Act Is Now
Another challenge when it comes to caring for a loved one with disabilities is the fact that, unlike some other forms of caregiving, there are dual tracks of concern running through the minds of the care provider. While one certainly involves self-care, the other involves what the future will hold for that loved one.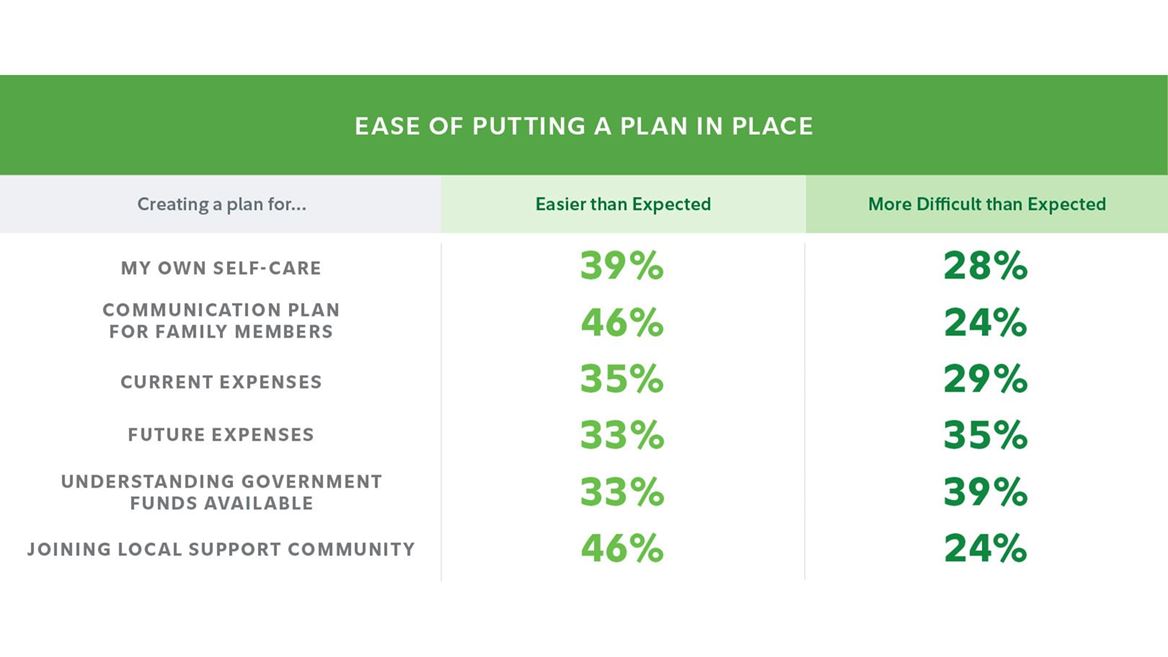 Planning can have a profound impact on providing greater peace of mind and the opportunity is to begin as early as possible. To that end, the study also looked at future caregivers -- those who expect to be providing care. What was uncovered is perhaps a false sense of security, with 45% feeling completely or somewhat prepared to take on responsibilities if they were unexpectedly required to tomorrow. In contrast, only 1 in 5 felt completely unprepared. Those who feel prepared tend to cite emotional reasons, while the unprepared cite financial factors.
However, future caregivers may think they have more time to prepare than they actually do -- and are holding off on planning in critical areas. In reality, given the day-to-day demands involved with caregiving for a loved one with a disability, planning while balancing newfound responsibilities and finding support at that point can become more challenging.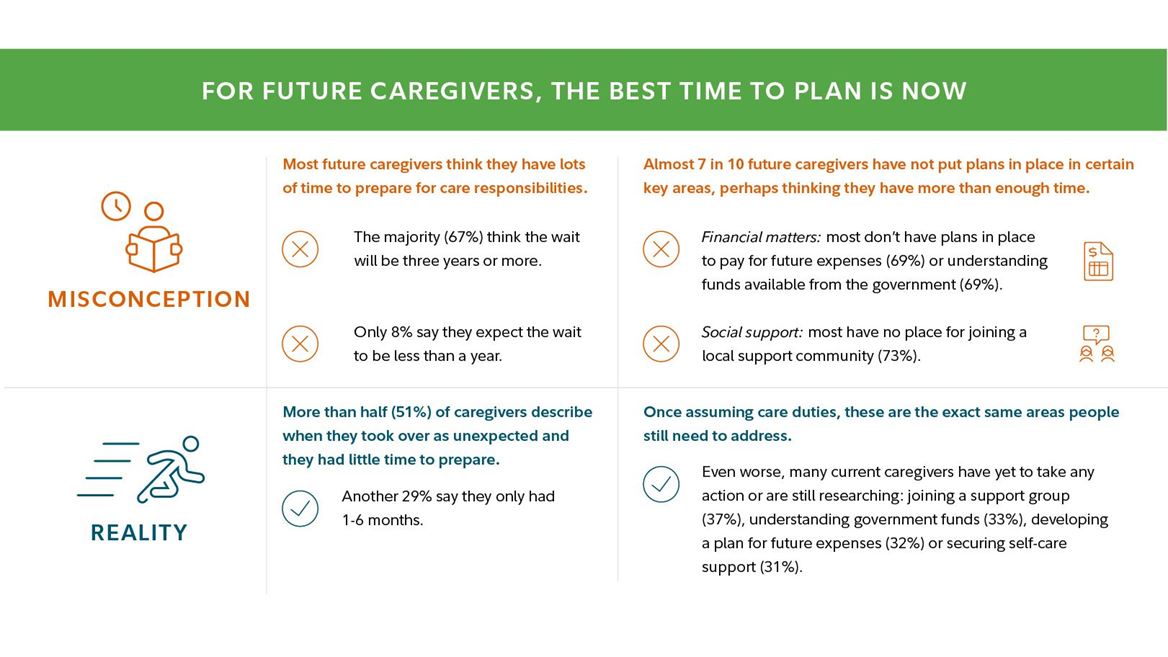 "Balancing caregiving and planning for your loved one with special needs can be difficult, and for those who are anticipating taking on these responsibilities, there really is no time like the present to prepare," said Watson. "Fortunately, there are a number of resources out there that can help you put a solid plan in place."
The good news is, caregivers who have taken planning actions found the simple act of putting a plan in place often turned out to be easier than expected, in almost all areas. This was especially true for creating a plan for self-care and joining a community, but some tasks involving finances and family communications were also easier than expected for many.
One practical solution to improve the caregiving situation is to actively seek out help from one's employer, and yet, only 54% of caregivers indicate they looked into their available benefits through work. When they did ask, some of the top benefits respondents say their employer offers include job flexibility, paid and unpaid leave, employee assistance programs, and life insurance. Other types of valued benefits plan sponsors often offer can include HSAs, care coordination programs (such as Wellthy, National Care Advisors, etc.), legal plans, back-up care, remote work opportunities, compressed work schedules, meditation/stress management tools, and counseling.
Take It from Other Caregivers: Don't Be Afraid to Seek Out Assistance
When it comes to offering advice to people contemplating taking on caregiving duties, the top tips experienced caregivers offer involve the importance of planning, self-care, and community. In fact, community is a vital part of the equation and can be helpful not only for offering support from those who have "been there," but for finding much-needed resources, as well.
Fidelity Offers Guidance, Resources on How to Make the Caregiving Process Less Stressful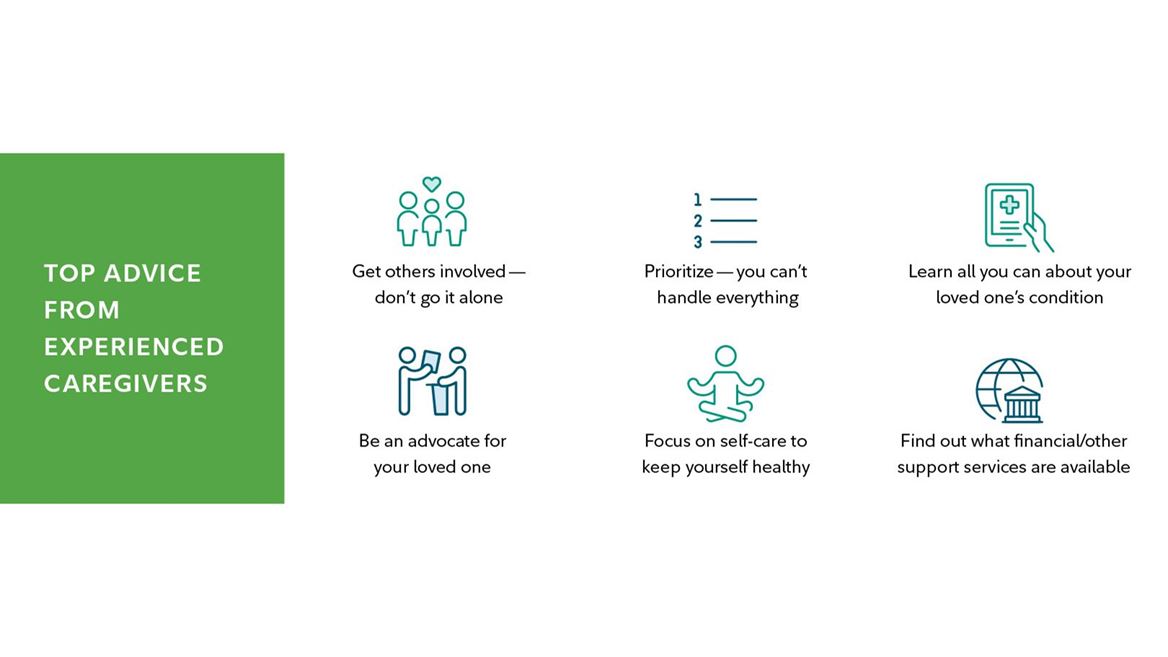 For those looking for help at any point in the caregiving process, Fidelity has resources, tools, and the guidance to help sort through things where and when you need it -- whether it's a roadmap from end-to-end, the ability to dive into a topic to get trusted insights and suggested next steps, or a chance to look ahead and learn what to expect. This includes:
About the American Caregivers: Caring for a Loved One with Disabilities Study
This study presents findings from a nationwide survey of 766 U.S. adults ages 18+ who have current caregiving responsibilities for a family member or loved one with special health care needs or expect to in the future. Interviewing for this survey was conducted May 20-30, 2022 by Engine Insights, Inc., which is not affiliated with Fidelity Investments. The results of this survey may not be representative of all adults meeting the same criteria as those surveyed for this study. For a detailed look at the Caring for a Loved One with Disabilities study, go here.
About Fidelity Investments
Fidelity's mission is to inspire better futures and deliver better outcomes for the customers and businesses we serve. With assets under administration of $10.5 trillion, including discretionary assets of $4.0 trillion as of May 31, 2022, we focus on meeting the unique needs of a diverse set of customers. Privately held for over 75 years, Fidelity employs more than 58,000 associates who are focused on the long-term success of our customers. For more information about Fidelity Investments, visit https://www.fidelity.com/about-fidelity/our-company.
Please carefully consider the Attainable Savings Plan's investment objectives, risks, charges, and expenses before investing. For this and other information, contact Fidelity for a free Disclosure Document or view one online. Read it carefully before you invest or send money.
Units of the portfolios are municipal fund securities and are subject to market fluctuation and volatility. You may have a gain or loss when you sell your units.
Keep in mind that investing involves risk. The value of your investment will fluctuate over time, and you may gain or lose money.
Fidelity Brokerage Services LLC, Member NYSE, SIPC
900 Salem Street, Smithfield, RI 02917
Fidelity Distributors Company LLC
500 Salem Street, Smithfield, RI 02917
National Financial Services LLC, Member NYSE, SIPC
245 Summer Street, Boston, MA 0211
1038884.1.0
© 2022 FMR LLC. All rights reserved.
Follow us on Twitter@FidelityNews
Visit About Fidelity and our online newsroom
Subscribe to emailed news from Fidelity
[1] SOURCE: Institute on Aging (2016)
Contact for Media Only:
Corporate Communications
(617) 563-5800
FidelityMediaRelations@fmr.com
Ted Mitchell
(401) 292-3084
ted.mitchell@fmr.com
Source: Fidelity Investments