Parents Say College Is a Top Savings Priority, Yet Families Are Only on Track to Cover Less than Half (42%) of Anticipated College Costs, a Drop from Recent Years
BOSTON, September 14, 2022—Massachusetts families are both committed to higher education and concerned about associated rising expenses. Data from the Fidelity Investments® and MEFA® (Massachusetts Educational Financing Authority) 2022 College Savings Indicator Study indicates 9-in-10 Massachusetts parents are concerned about inflation and the rising cost of college, however nearly just as many feel college is still worth the cost. Even so, nearly one-third of Massachusetts parents aren't sure what that cost will be by the time their child enrolls and 51% use "their own best guess" to estimate college costs.
"Even in times of uncertainty it's clear that saving for college remains a top priority for many Massachusetts families," said Tom Graf, Executive Director of MEFA. "With rising expenses and market uncertainties, MEFA understands the challenges parents face along their planning journey and we're here to help ease parents' concerns and answer questions along the way with our expert information, guidance, and one-on-one college  planning appointments."
The Impact of Uncertain Times on College Savings
The study finds that while Massachusetts parents are less concerned with COVID-19's impact on their savings strategy than in 2020, there's a new wave of concern keeping them up at night: inflation and market volatility.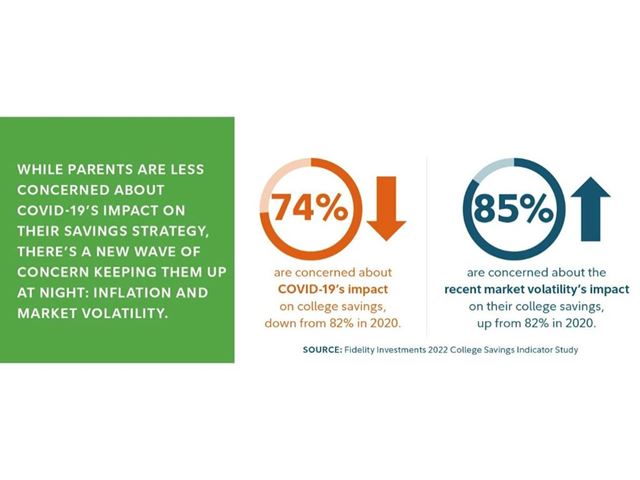 Of the Massachusetts parents who plan on decreasing their savings this year, nearly 4-in-10 attribute market volatility as their primary source of concern. While nearly all Massachusetts parents are concerned about inflation and the rising costs of college, encouragingly, most (83%) are still planning to either increase or stay the course with their savings strategy this year.
Pandemic Fallout: Looking Ahead to the 2022 School Year—and Beyond 
While nearly three-quarters of Massachusetts parents say their children are feeling more positive than they felt last year heading into the 2022 school year, more than 8-in-10 (81%) still anticipate modifications to the traditional in-person learning experience—indicating the pandemic's shift to virtual or hybrid learning models is still top of mind for many families.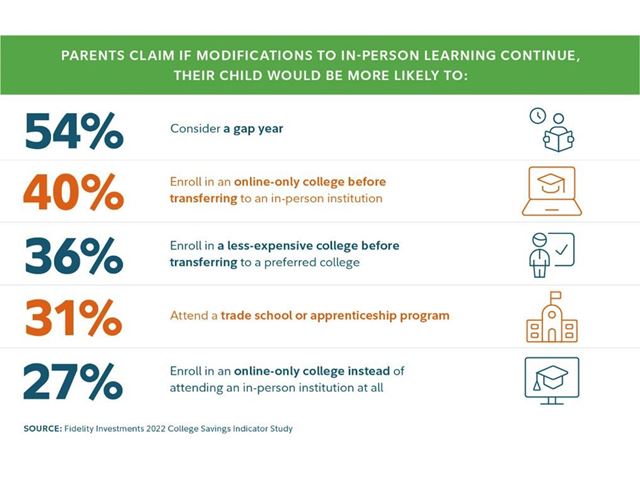 The study also reveals nearly 2-in-3 Massachusetts parents (63%) believe the United States will one day offer tuition-free college. Furthermore, 40% claim if that became the case, they would continue to save for their child's education all the same—indicating some parents are uncertain of the likelihood that such benefits would cover all the costs (e.g., books, housing, etc.) or will come with limitations for those wanting to attend private colleges or pursue advanced degrees or career paths. In all, the number of Massachusetts parents saving is on the rise—86% in 2022 compared to 71% in 2015.
Student Loan Debt: Even with Relief, Parents Struggle to Save 
For those Massachusetts parents still paying off their own student loan debt (18% of respondents), nearly all of them (94%) say once they're finished paying back their own student loans, that money will be used for their child's college savings. The federal emergency relief repayment and interest freeze set to expire in December 2022 has provided help to parents, with 34% reporting they are not making any payments towards those loans.
Planning for Uncertainty: How Families Can Plan and Adjust to Meet Their Goals 
As the total cost of college continues to rise, Massachusetts parents continue to increase the amount they plan to pay for their child's education. While Massachusetts parents' expectations may have increased, they're still falling short on funding their intended college savings goals—an important step in long-term economic mobility. Massachusetts parents hope to pay for 78% of their child's education (up from 68% in 2020), however they're only on track to meet 42% of that goal (down from 46% in 2020).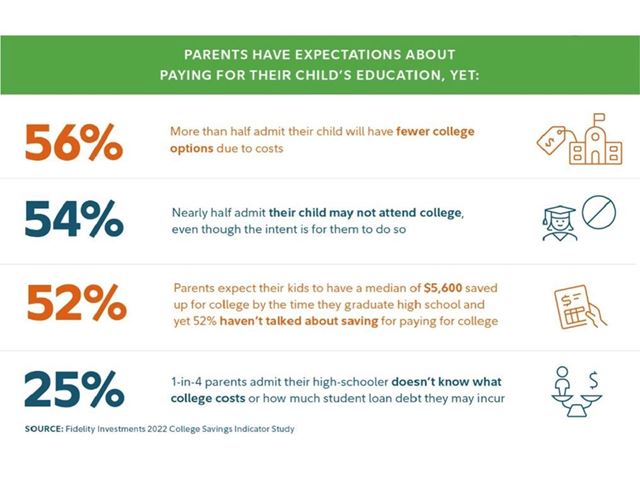 Now more than ever it's important for families to have a financial plan in place to ensure their current needs are being met and they're prepared for what the future may bring. Massachusetts parents consistently rank saving for college as a top savings priority, and nearly one-quarter of Massachusetts parents planning to pay for at least some of their child's education (22%) don't have a financial plan in place. Parents who prefer to build a roadmap on their own may consider using online resources, such as MEFA®'s College Planning and Guidance Center1, which offers step-by-step guidance on preparing for college as well as helpful financial tools to help families calculate their savings. For those who prefer additional support and guidance in their planning process, financial professionals can play an important role. 86% of parents with a financial advisor say working with one gives them a peace of mind about the college planning process.
"There is a certain level of financial transparency that younger generations expect," said Rita Assaf, vice president of Retirement and College at Fidelity Investments. "They're growing up during a time when news headlines are dominated by inflation, market volatility, and the student debt crisis, and not only are they more aware of the financial responsibilities headed their way—they're taking steps now to ensure they can make a long-term investment in their own education and financial success."
Simply starting the conversation can help. The study found that the majority of Massachusetts parents who have talked to their child (86%) have started saving, compared to 78% for those who have not had a conversation. Furthermore, 62% of Massachusetts parents who talked to their child about saving opened a 529 college savings account, compared to the 51% who had not. This is important, because the data suggest that not only do parents with a 529 have higher expectations for how much they plan to save, they're also more likely to meet those savings goals.
The study results are available here.
About the College Savings Indicator Study: 
As part of the study, Fidelity conducted a survey of parents with college-bound children of all ages. Parents provided data on their current and projected household asset levels including college savings, use of an investment advisor and general expectations and attitudes toward financing their children's college education. Using Fidelity's proprietary asset-liability modeling engine, the company was able to calculate future college savings levels per household against anticipated college costs. The results provided insight into the financial challenges parents face in saving for college. Data for the Indicator (number of children in household, time to matriculation, school type, current savings and expected future contributions) was collected by Boston Research Technologies, an independent research firm, through an online survey from April 18—May 30, 2022, of 1,858 families nationwide with children aged 18 and younger who are expected to attend college. The survey respondents had household incomes of at least $30,000 a year or more and were the financial decision makers in their household. 267 of these respondents resided in Massachusetts when the survey was conducted. College costs were sourced from the College Board's Trends in College Pricing 2021. Future assets per household were computed by Fidelity Personal and Workplace Advisors LLC (FPWA), a registered investment adviser and a Fidelity Investments company. Within Fidelity's asset-liability model, Monte Carlo simulations were used to estimate future assets at a 75 percent confidence level. The results of the College Savings Indicator may not be representative of all parents and students meeting the same criteria as those surveyed for the study.
About Fidelity Investments
Fidelity's mission is to inspire better futures and deliver better outcomes for the customers and businesses we serve. With assets under administration of $9.9 trillion, including discretionary assets of $3.7 trillion as of June 30, 2022, we focus on meeting the unique needs of a diverse set of customers. Privately held for over 75 years, Fidelity employs more than 58,000 associates who are focused on the long-term success of our customers. For more information about Fidelity Investments, visit https://www.fidelity.com/about-fidelity/our-company.
About MEFA® (Massachusetts Educational Financing Authority)
MEFA is a not-for-profit state authority, not reliant on state or federal appropriations, established under Massachusetts General Laws, Chapter 15C. MEFA's mission, since its founding in 1982, has been to help Massachusetts students and families access and afford higher education and reach financial goals through education programs, tax-advantaged savings plans, low-cost loans, and expert guidance. All of MEFA's work aligns with the ever-present goal to support the independence, growth, and success of Massachusetts students and families. Visit mefa.org to learn more or follow MEFA on Facebook, Instagram, LinkedIn, Twitter and YouTube. 
Please carefully consider the plan's investment objectives, risks, charges, and expenses before investing. For this and other information on any 529 college savings plan managed by Fidelity, contact Fidelity for a free Fact Kit, or view one online. Read it carefully before you invest or send money.
Keep in mind that investing involves risk. The value of your investment will fluctuate over time, and you may gain or lose money.
Units of the portfolios are municipal fund securities and are subject to market fluctuation and volatility. You may have a gain or loss when you sell your units. 
The trademarks and service marks appearing herein are the property of their respective owners.
If you or the designated beneficiary are not a resident of the state sponsoring the 529 college savings plan, you many want to consider before investing, whether your home state or the designated beneficiary's home state offers its residents a plan with alternate state tax advantages or other benefits. 
# # #
Fidelity Brokerage Services LLC, Member NYSE, SIPC
900 Salem Street, Smithfield, RI 02917
Fidelity Distributors Company LLC
500 Salem Street, Smithfield, RI 02917
National Financial Services LLC, Member NYSE, SIPC
245 Summer Street, Boston, MA 0211
Corporate Communications
(617) 563-5800
fidelitymediarelations@fmr.com
Katie Babb
(617) 563-9498
katie.babb@fmr.com
Lisa Rooney, MEFA
(617) 224-4838
lrooney@mefa.org
1046671.1.0
© 2022 FMR LLC. All rights reserved. 

1 You are leaving Fidelity.com for another website. The site owner is not affiliated with Fidelity and is solely responsible for the information and services it provides. Fidelity disclaims any liability arising from your use of such information or services. Review the new site's terms, conditions, and privacy policy, as they will be different from those of Fidelity's sites.