Parents Say College is Their Top Savings Priority, Yet Families are Only on Track to Cover 27% of Anticipated College Costs, a Drop from Recent Years
Nearly One-Third (30%) of Parents with Student Loan Debt Have Yet to Start Saving for their Child's Education; New Federal Student Loan Debt Forgiveness May Drive Additional Relief
BOSTON--(BUSINESS WIRE)-- American families are both committed to higher education and concerned about associated rising expenses as data from Fidelity Investments® 2022 College Savings Indicator Study indicates most parents are concerned about inflation and the rising cost of college, however 81% feel college is still worth the cost. Even so, 29% aren't sure what that cost will be by the time their child enrolls and 6-in-10 use "their own best guess" to estimate college costs.

While parents are less concerned about the pandemic's impact on their savings strategy, there's a new wave of concern around inflation and market volatility, according to Fidelity Investments' 2022 College Savings Indicator Study. (Photo: Business Wire)
"With high inflation and market uncertainties, meeting day-to-day financial needs is harder than ever for many families, making future costs such as college, much more challenging," said Rita Assaf, vice president of Retirement and College at Fidelity Investments. "For those with student debt, there is some relief in sight with the recently announced federal student loan debt forgiveness program. However, planning ahead for future college costs to avoid some of the debt will go a long way. Parents would never recommend their kids not plan for a test and simply guess at the answers as the strategy is unlikely to be very successful. Similarly, parents can't afford to not be prepared when it comes to saving for the rising cost of college."
The Impact of Uncertain Times on College Savings
The study, which has been conducted regularly since 2007, finds that while parents are less concerned with COVID-19's impact on their savings strategy than in 2020, there's a new wave of concern keeping them up at night: inflation and market volatility.
Of parents who plan on decreasing their savings this year, 4-in-10 attribute market volatility as their primary source of concern. While nearly all parents are concerned about inflation and the rising costs of college, encouragingly, most (83%) are still planning to either increase or stay the course with their savings strategy this year.
Pandemic Fallout: Looking Ahead to the 2022 School Year—and Beyond
While nearly two-thirds of parents say their children are feeling more positive than they felt last year heading into the 2022 school year, nearly 7-in-10 (68%) still anticipate modifications to the traditional in-person learning experience – indicating the pandemic's shift to virtual or hybrid learning models is still top of mind for many families.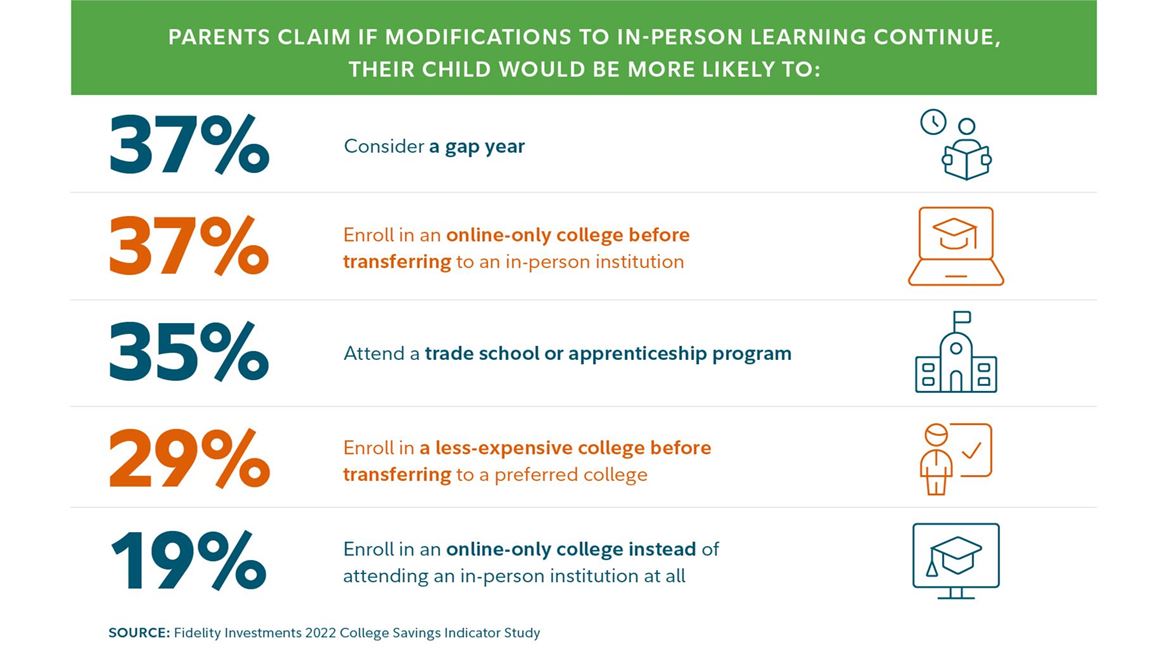 The study also reveals more than half of parents (54%) believe the United States will one day offer tuition-free college. Furthermore, more than a third (36%) claim if that became the case, they would continue to save for their child's education all the same – indicating some parents are uncertain of the likelihood that such benefits would cover all the costs (e.g., books, housing, etc.) or will come with limitations for those wanting to attend private colleges, pursue advanced degrees or career paths. In all, 76% of parents have started saving, compared to the 58% in 2007, the first year of the study.
Student Loan Debt: Even with Relief, Parents Struggle to Save
Concerns about student loan debt continue to rise as more and more parents agree it motivates them to save for their child's future college costs (79% in this year's study, up from 65% in 2018). For those parents still paying off their own student loan debt (22% of respondents), nearly 9-in-10 (88%) say once they're finished paying back their own student loans, that money will be used for their child's college savings. In fact, nearly one-third (30%) of them admit to not even having started saving for their child's education at all. The federal emergency relief repayment and interest freeze set to expire in December 2022 has provided help to parents, with nearly half (49%) reporting they are not making any payments towards those loans.
Planning for Uncertainty: How Families can Plan and Adjust to Meet their Goals
As the total cost of college continues to rise, parents continue to increase the amount they plan to pay for their child's education. While parent's expectations may have increased, they're still falling short on funding their intended college savings goals – an important step in long-term economic mobility. Parents hope to pay for 69% of their child's education (up from 65% in 2020), however they're only on track to meet 27% of that goal (down from 33% in 2020).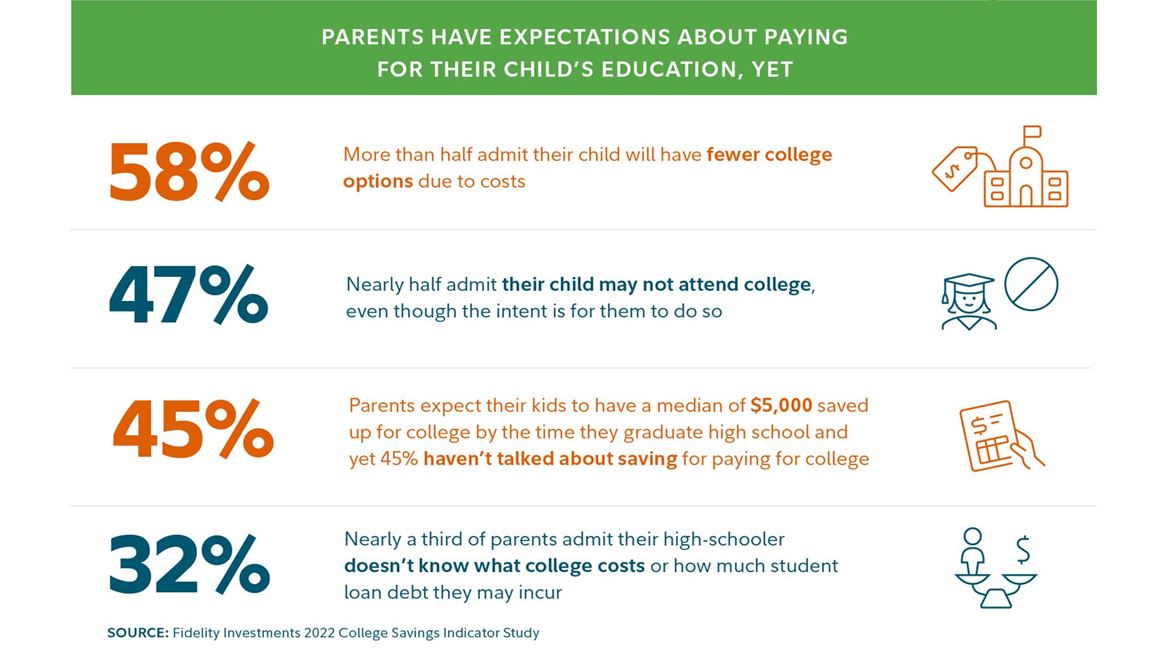 Now more than ever it's important for families to have a financial plan in place to ensure their current needs are being met and they're prepared for what the future may bring. For the first time in recent years, parents ranked saving for college as their top savings priority, even surpassing retirement, and yet more than one-third (35%) of parents planning to pay for at least some of their child's education don't have a financial plan in place. Parents who prefer to build a roadmap on their own may consider using online resources, such as Fidelity's Planning and Guidance Center, which offers a comprehensive financial tool to help families balance saving for the cost of college with other priorities. For those who prefer additional support and guidance in their planning process, financial professionals can play an important role. 85% of parents with a financial advisor say working with one gives them a peace of mind about the college planning process (up from 79% in 2020).
"There is a certain level of financial transparency that younger generations expect," said Assaf. "They're growing up during a time where news headlines are dominated by inflation, market volatility and the student debt crisis, and not only are they more aware of the financial responsibilities headed their way – they're taking steps now to ensure they can make a long-term investment in their own education and financial success."
Simply starting the conversation can help. The study found that 86% of parents who have talked to their child have started saving, compared to 63% for those who have not had a conversation. Furthermore, 45% of parents who talked to their child about saving opened a 529 college savings account, compared to the 32% who had not. This is important, because the data suggest that not only do parents with a 529 have higher expectations for how much they plan to save, they're also more likely to meet those savings goals.
Additional Findings and Resources for College Savers:
Among the 8% of parents planning to decrease contributions to college savings this year, market volatility and job insecurity were top drivers of the change. To help families strengthen and secure their financial well-being during these uncertain times and understand the basics of 529s, here is more information on ways to explore investment options and potential tax advantages to make the most of college savings contributions.
Two-thirds (66%) of parents agree that contributions from grandparents and other family members will play an important role in funding their child's college education (up from 54% in 2020). More on how to ask for gifts to a 529 account.
Nearly 8-in-10 parents agree concerns about student loan debt is a motivating factor in saving for their children's college education. Yet parents continue to underestimate the amount of student debt children will incur, estimating their children will graduate with an average of $26,600 in student loan debt, while the nationwide average for a student graduating today is $28,400 with 10% of borrowers still owing $80,000 in education debt or more1. To help families understand the true cost of student loan debt, Fidelity offers this free Student Debt Tool: Fidelity.com/studentdebt
Parents expect their children to have saved a median of $5,000 by the time they graduate high school. Even so, 45% of parents have not yet talked to their children about saving and paying for college. This short immersive video can help share what some families experience when weighing their college options.
In addition to providing college-planning products and tools, Fidelity has a legacy of supporting its nearly 60,000 associates and the community with access to educational opportunities. Fidelity provides competitive tuition reimbursement benefits, and its student debt benefit has eliminated more than $67 million in principal debt plus about $31 million in interest payments. That equates to 19,7372 years of loan payments shaved off for Fidelity associates since the program launched in 2016. In the community, Fidelity focuses on providing financial education and access to education to historically underserved populations, knowing that education can improve long-term outcomes. Learn more about career opportunities available at Fidelity today or about Fidelity's student loan debt assistance benefit.
The full study results are available here
Fidelity's more than 200 nationwide investor centers can provide college planning guidance within the context of your family's life and financial goals, and dedicated college planning representatives are available at 800-544-1914.
About the College Savings Indicator Study:
As part of the study, Fidelity conducted a survey of parents with college-bound children of all ages. Parents provided data on their current and projected household asset levels including college savings, use of an investment advisor and general expectations and attitudes toward financing their children's college education. Using Fidelity's proprietary asset-liability modeling engine, the company was able to calculate future college savings levels per household against anticipated college costs. The results provided insight into the financial challenges parents face in saving for college. Data for the Indicator (number of children in household, time to matriculation, school type, current savings and expected future contributions) was collected by Boston Research Technologies, an independent research firm, through an online survey from April 18 – May 30, 2022, of 1,858 families nationwide with children aged 18 and younger who are expected to attend college. The survey respondents had household incomes of at least $30,000 a year or more and were the financial decision makers in their household. College costs were sourced from the College Board's Trends in College Pricing 2021. Future assets per household were computed by Fidelity Personal and Workplace Advisors LLC (FPWA), a registered investment adviser and a Fidelity Investments company. Within Fidelity's asset-liability model, Monte Carlo simulations were used to estimate future assets at a 75 percent confidence level. The results of the College Savings Indicator may not be representative of all parents and students meeting the same criteria as those surveyed for the study.
About Fidelity Investments
Fidelity's mission is to inspire better futures and deliver better outcomes for the customers and businesses we serve. With assets under administration of $9.9 trillion, including discretionary assets of $3.7 trillion as of June 30, 2022, we focus on meeting the unique needs of a diverse set of customers. Privately held for over 75 years, Fidelity employs more than 58,000 associates who are focused on the long-term success of our customers. For more information about Fidelity Investments, visit https://www.fidelity.com/about-fidelity/our-company.
Please carefully consider the plan's investment objectives, risks, charges, and expenses before investing. For this and other information on any 529 college savings plan managed by Fidelity, contact Fidelity for a free Fact Kit, or view one online. Read it carefully before you invest or send money.
Keep in mind that investing involves risk. The value of your investment will fluctuate over time, and you may gain or lose money.
**IMPORTANT: The projections or other information generated by the Planning & Guidance Center's Retirement Analysis regarding the likelihood of various investment outcomes are hypothetical in nature, do not reflect actual investment results, and are not guarantees of future results. Your results may vary with each use and over time. **
Fidelity Brokerage Services LLC, Member NYSE, SIPC
900 Salem Street, Smithfield, RI 02917
Fidelity Distributors Company LLC
500 Salem Street, Smithfield, RI 02917
National Financial Services LLC, Member NYSE, SIPC
245 Summer Street, Boston, MA 0211
1045490.1.0
© 2022 FMR LLC. All rights reserved.
1 The College Board, Trends in Student Aid 2021
2 Data through December 2021
Contact for Media Only:
Corporate Communications
(617) 563-5800
FidelityMediaRelations@fmr.com
Katie Babb
(617) 563-9498
katie.babb@fmr.com
Follow us on Twitter@FidelityNews
Visit About Fidelity and our online newsroom
Subscribe to emailed news from Fidelity
Source: Fidelity Investments